Christmas is a time when the grey winter lights up with thousands of colours and a fairy tale is born. The Christmas fairy tale is all about the snowflakes dancing in the air, jingle bells and laughing children, the deep voice of organ and connection with each other and the divine. In Europe, there are some towns that remind you of Christmas the moment you get there because they look like having stepped out of a fairy-tale book even in summer. The first one that comes to my mind is Strasbourg.
Strasbourg at Christmas time is made of sparkling houses decorated with polar bears and deer, narrow streets covered in snow, mulled wine and delicious food. What else do you need for a perfect Christmas getaway? Good company, probably.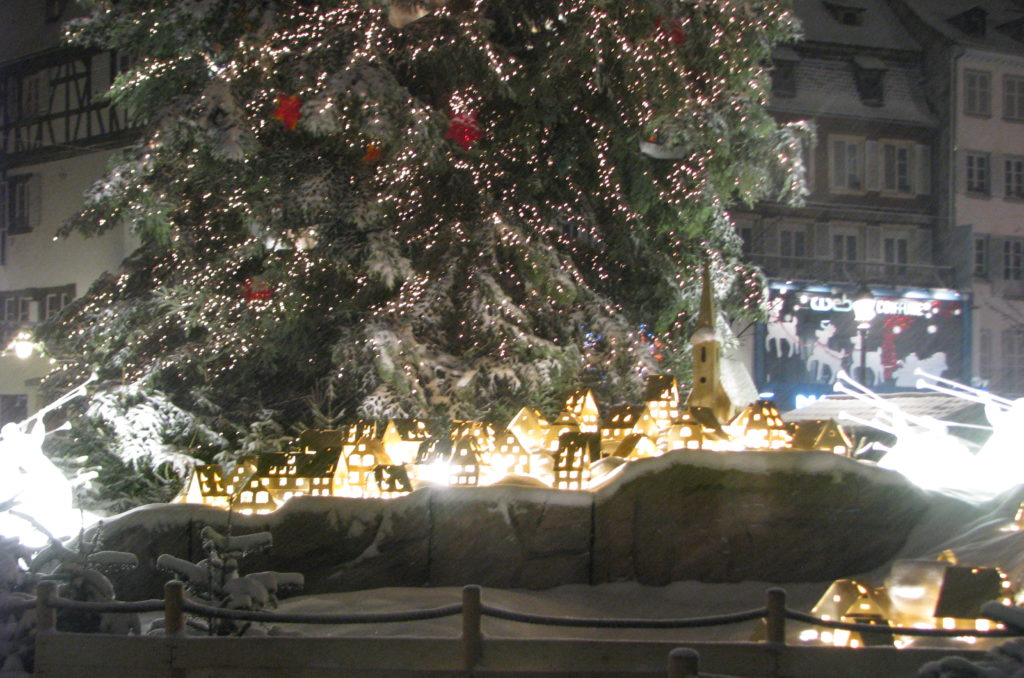 Strasbourg is a special town for me. I have been in love with everything French for as long as I can remember myself, and Strasbourg is the place where my first real-life rendez-vous with France happened. Alsace is the region that I was lucky to be able to see through the eyes of the local people, some of which have lived there for generations. At one of these encounters, I ended up in an old school in a little village somewhere in Alsace failing my first attempt to see Strasbourg dressed-up for Christmas.
I worked for a French company with a headquarter within an hour from Strasbourg. It was early December and the Christmas market in Strasbourg had just opened and the lights had gone on.  I wanted to leave the work earlier to have enough time to see the town the evening of my departure, but I got an invitation that I couldn't refuse.
– I want to show our house to you, we almost finished renovating one part of it. And I want you to meet my husband. I promise to drive you to Strasbourg before the market is closed so that you have time to buy some souvenirs.
Nadine was a lovely person, who made me feel welcome in France and was very helpful in the office, always patient with my terrible French. Nadine once told me that she always spends her holidays in France and never goes anywhere else. I could almost understand her. Every region of France is so different, that it feels like a different country.  I felt honoured with this invitation and couldn't refuse.
The evening started in a local pub drinking Christmas beer. That's where I first heard Alsacian language and realised how different it is from French. I didn't understand a single word. After that, we went to see the house that appeared to be an old school. One part of it was converted into a flat and the other parts still had school tables and chairs there. Now, after living in the UK for a while, I do understand how does it feel to live in an old house. But back then, the idea of an old building with no insulation and with the temperature inside very similar to that of the outside felt like stepping into the pages of historical novels that I loved so much. We spent the evening eating and drinking house wine with Nadine and her husband, who also appeared to be a lovely person and a true Alsacian often using Alsacian words and testing my imperfect French. But the wine and nice food do miracles, so soon we were able to communicate easily.
We didn't get to Strasbourg until late evening, but I wasn't upset. The encounters like this, spending time with people like Nadine and her husband, is what makes travelling a unique experience allowing to see the place through the eyes of the local people. And the other good thing that came out of this was that the first time I saw Strasbourg at Christmas, it was my honeymoon. And it was another unique experience that I remember now with great warmth.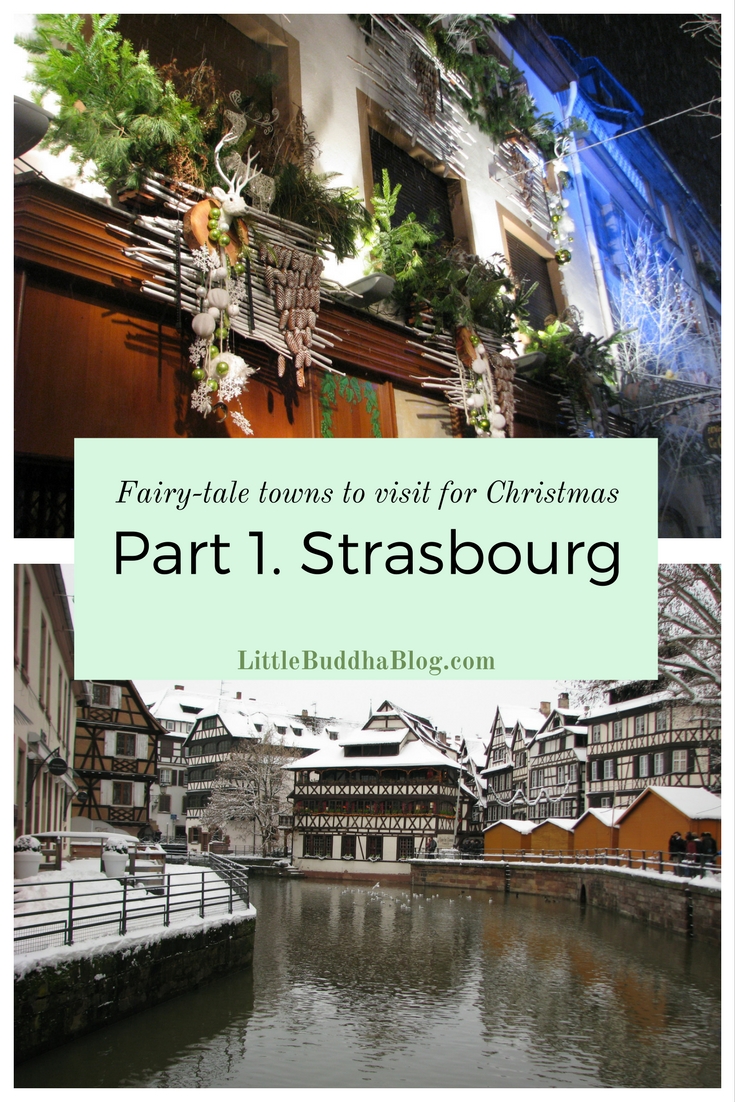 Strasbourg at Christmas
The honeymoon was also on the verge of failing. Europe was covered in snow, even the UK where 3 cms of snow become a total disaster. Some of the flights from London were cancelled, a lot of them delayed. Gatwick airport was full of people looking at the timetables with eyes full of hope. Nobody wanted to spend the Christmas at the airport.
I was lucky, my flight wasn't cancelled and I successfully landed in Frankfurt where I was supposed to meet with my husband. He arrived earlier and was getting really worried looking out of the window. There was a snowstorm starting in Frankfurt. My flight was the last one to land in Frankfurt that day.
The adventures didn't end there. We had to get to Strasbourg by car and fortunately, we were given a car with winter tyres. There was so much snow, that we couldn't drive quicker than 20mph on German motorways! Sometimes we had to stop and wait for snow cleaning machine to pass to be able to follow it.
We got to Strasbourg in the evening. We were so tired but were desperate to see the town. It was the Christmas Eve in the end. All the normal people were already celebrating either in the warmth of their homes or in restaurants. We found ourselves in a winter fairy tale – in front of us was the empty town sparkling in Christmas lights and cute decorations covered in snow. Huge snowflakes were dancing in the air setting the mood for celebration and play. It was freezing as well as I managed to walk into the winter in my usual light boots that I used to wear in London. And finding where to get warm and have a dinner appeared to be another challenge.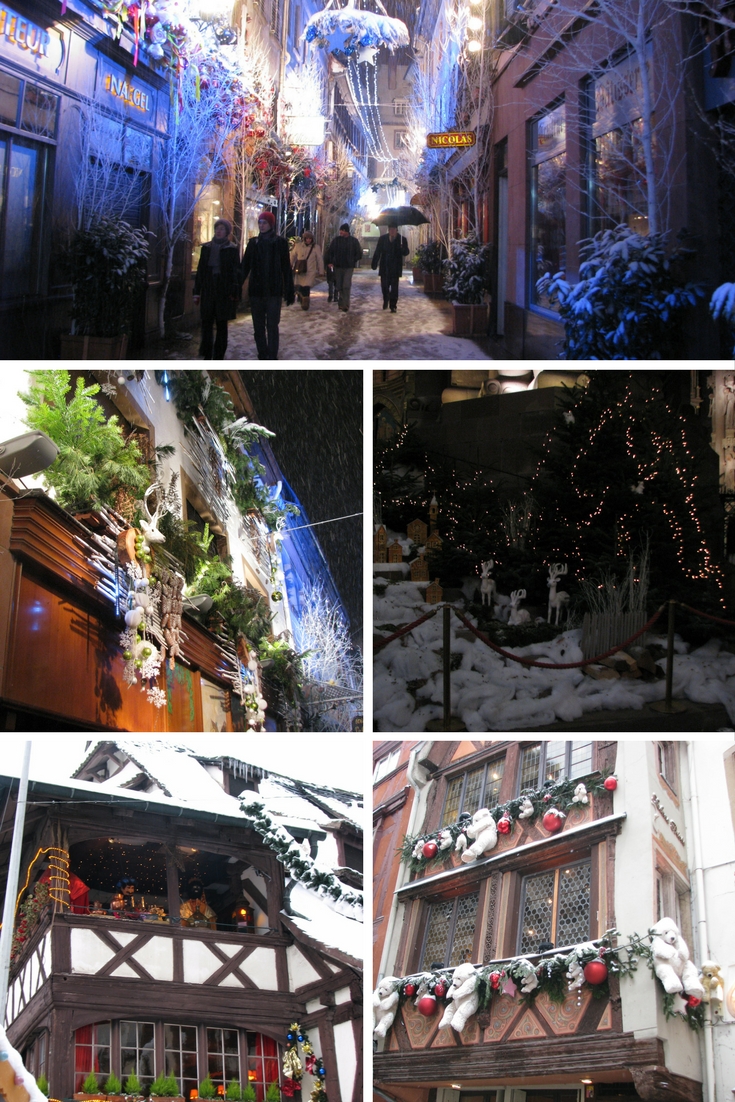 What to see in Strasbourg?
The best advice here is to walk around the town getting lost in the narrow streets, looking for some yummy places to eat in hidden courtyards of Petite France.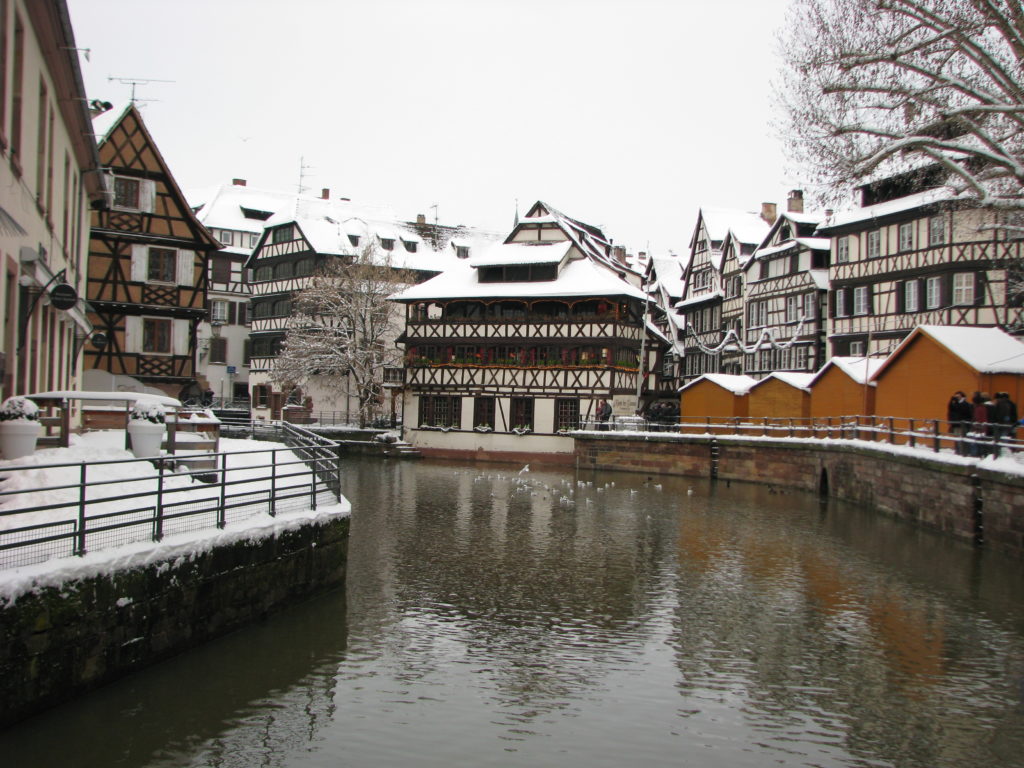 There's no way you'll miss the Cathedral – Notre Dame de Strasbourg. The astronomical clock there is magnificent and I spent ages there figuring out how it all works. If you have a chance, make sure to go for an organ recital in the Cathedral. Les Grandes Orgues de Strasbourg concert is one of the most powerful and moving musical experiences I had in my life. And the nativity scenes in the Cathedral are beautiful as well.
If it's not snowing or raining, get on a bike and ride all the way to the European Parliament along the river. I did it on another trip to Strasbourg and it was a beautiful route. If it's cold, the alternative is to take a boat tour on Batorama.
The Christmas market was wonderful as well with lots of cute booths and the delicious mulled wine allowing to get warm as it was really cold there.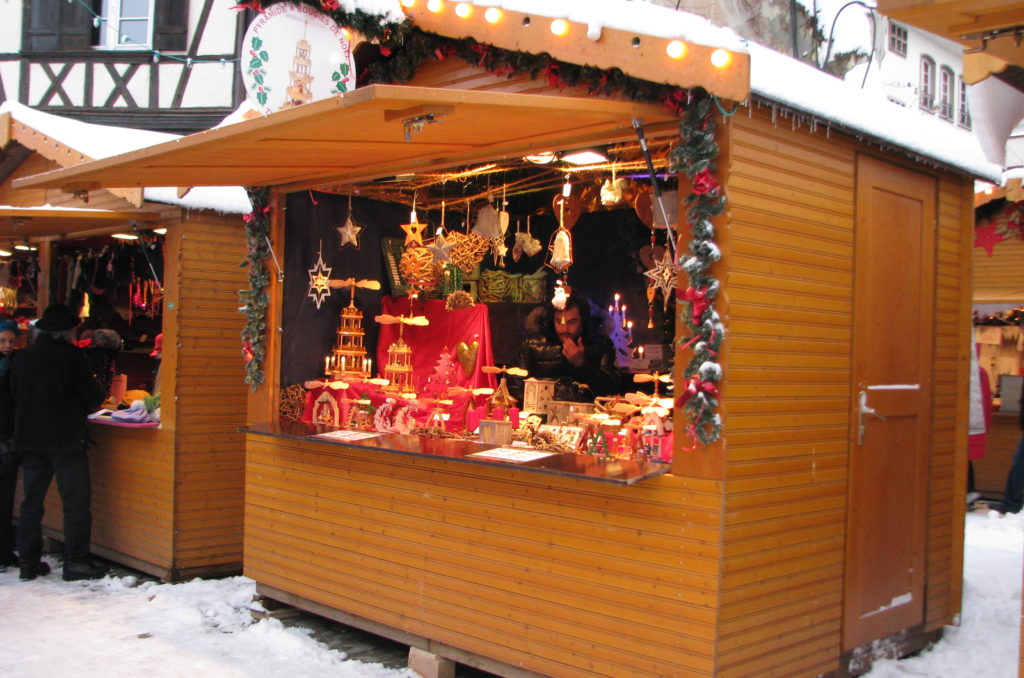 Alsacian Specialities
For me, each trip to France becomes a gastronomic adventure. I could live just on french baguettes with cheese and croissants with coffee and be perfectly happy. But I love to try new things wherever I go. Here are few Alsacian specialities that the locals are really proud about.
Flammekueche or Tarte Flambée  – the  Alsacian pizza. Although it is traditionally made with a white sauce from the mix of soft cheese and creme-fraiche as a base covered with onions and bacon, many restaurants now offer different options, including vegetarian and sweet ones. In some places, once the dish is ready, it is sprinkled with something alcoholic and put on fire. It gives a special taste to it, making it very different from the normal pizza. It's worth trying it if only for the experience.
Choucroute garnie – the pickled cabbage with pork. This didn't become my favourite even when I was eating meat, but a lot of people love it, especially in winter.
Baeckeoffe – casserole with potatoes and several varieties of meat cooked in a red-wine sauce.
Bouchée à la reine or Bouchee aux fruits de mer – sometimes also called croustade – a crispy puff pastry with a chicken (à la reine) or seafood (aux fruits de mer) sauce. It comes as a main dish or a starter. The sauce is really sophisticated and either makes or breaks the dish. In a few places where I ordered this dish, the sauce was so nice that I couldn't help just closing my eyes and sighing with delight.
In terms of the drinks, both wine and beer feel very comfortable in Alsace. Many restaurants have mini-breweries making their own white unfiltered beer. There is also the special Christmas beer in Alsace that tastes like a dark ale.  Another Alsacian favourite is Amer Picon – a traditional aperitif made from orange peel. It has a bittersweet taste that feels a bit strange at first, but then you grow to love the citrus flavour as you get used to it. If you prefer wine, make sure to try the local whites – the dry Riesling and a bit more fruity Gewürztraminer.
Where to eat?
As I already mentioned, the best advice here is just to find your own hidden gems walking in the town. Some of these little restaurants have just a few tables and feel like eating in somebody's house. Unfortunately, I can't remember any of the exact names for this ones, so you'll have to go for your own adventure. If you need to plan in advance, here are few restaurants that we tried in the center of the town:
Gurtlerhoft – cosy rustique atmosphere making you feel like the restaurant is carved in a rock. Offers a wide variety of local specialities.
Brasserie Kohler Rehm – another cosy restaurant minutes away from Gallerie Lafayette. You have to visit the Galerie at the Christmas time as it's beautifully decorated, even if you don't plan shopping. The restaurant also offers a variety of local specialities but also has a big choice of fish and seafood dishes which is great if you don't eat meat. Make sure to try the beer from the restaurants own brewery – Storig à Schiltigheim. It is served with lemon and is perfect to go with fish.
If you plan to go to Strasbourg on the Christmas Eve itself, many restaurants will either require advanced booking or serve just the fixed Christmas menu. We struggled to find where to eat, and even more importantly where to get warm, the evening of our arrival. We went to Aux Armes Des Strasbourg in the end and they served the usual a-la-carte menu with Christmas dishes available as an option.
Places to visit outside Strasbourg
If you visit Strasbourg for more than few days, there are a lot of places around it perfect for day trips. In Mulhouse, another picturesque town within an hour drive from Strasbourg, there is a great museum of retro cars – Cite de l'automobile. We spent almost the whole day there. Staying in Mulhouse could also become a great way to save money, if you plan to visit Basel and Bern.
Another magnificent place just 10 minutes away from Strasbourg is the Haut-Kenningsberg Castle.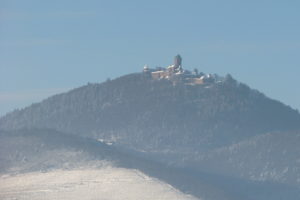 The Castle is on the top of the hill and can be seen even from the motorway. It might be difficult to get there in case of snow. If you are renting a car, make sure to order the winter tyres in advance.
You can go to the castle on your way to another fairy-tale Alsacian town – Colmar. If you love colourful tiny villages, don't miss Saverne and Eguisheim. There are so many wonderful places around Strasbourg, that it's difficult to mention all of them. It's one of the most beautiful regions of France combining the French charm and German hospitality in its culture.
The next stop of our Christmas honeymoon was Strasbourg. But for the next part of this series of stories about the European fairy-tale towns, we will be heading North-West to magical Brugge in the Flemish part of Belgium.